The Benefits of Exercise During Cancer Treatment
According to Cancer.net, exercise is an important part of a cancer treatment plan. A growing amount of research shows that regular exercise can greatly improve physical and mental health during every phase of treatment. Even if you were not active before your cancer diagnosis, an exercise program that meets your unique needs can help you get moving safely and successfully. The Cancer Exercise Training Institute has trained thousands of Cancer Exercise Specialists worldwide who can help customize an exercise and lifestyle program to meet your individual needs.
Always get permission from your doctor to begin exercising during  or after cancer treatment.
A CETI Cancer Exercise Specialist can help ensure the safety and efficacy of your individualized workout program that may have the following benefits:
Lower the chance of having physical side effects, such as fatigue, neuropathy, lymphedema, osteoporosis, and nausea

Reduce the risk of depression and anxiety

Keep you as mobile and independent as possible

Improve your balance to reduce fall injuries

Prevent muscle loss and build strength

Prevent weight gain and obesity, which are linked to increased cancer risk

Improve sleep

Decrease the amount of time you need to stay in the hospital

Make your treatment more effective at destroying tumor cells

Improve survival rates for certain cancers, such as breast cancer and colorectal cancer

Prevent other chronic diseases, such as heart disease and diabetes

Improve quality of life
A CETI Cancer Exercise Specialist will complete a comprehensive physical assessment and health history review to determine the specific frequency, intensity, and duration of exercise appropriate for where you are emotionally and physically. They will develop a specific program that will include the following components as they are deemed appropriate for you:
Breathing exercises – You may experience shortness of breath or difficulty breathing during or after cancer treatment. This may make the idea of exercise unappealing and downright challenging. Breathing exercises can help to improve your endurance as well as improve lymphatic flow and minimize your risk for lymphedema. Breathing exercises combined with relaxation, meditation, and mindfulness, can also help reduce stress and anxiety.


Stretching – Following cancer surgery, reconstruction, and/or radiation you may notice tightness and difficulty with movement in the affected area.  Specific range of motion exercises and regular stretching can improve your flexibility as well as your posture. Muscle imbalances may contribute to poor posture and ultimately lead to pain, joint degeneration, and injury. Stretching increases the flow of blood and oxygen to the muscles and speeds recovery. It is important to regain full range of motion and identify and correct muscle imbalances with the appropriate combination of strength and stretching exercises as prescribed by your Cancer Exercise Specialist.

Balance exercises – Loss of balance can be a side effect of cancer and its treatment. Peripheral neuropathy may cause you to experience tingling, numbness, and/or pain in your feet that can increase your risk of falling due to balance challenges. Balance exercises can help you regain the function and mobility you need to return to your daily activities safely. Maintaining good balance also helps prevent injuries and falls.

Cardiovascular exercise – Chemotherapy and radiation may have a negative effect on your heart and lungs. Cardiovascular exercise strengthens your heart and lungs and can decrease the fatigue you may experience during and after treatment. It will also help you to burn calories and help you to lose any weight that you may have gained from cancer treatment.

Strength training – Muscle loss, or cancer cachexia, often happens when a person is less active during cancer treatment and recovery, or from long-term cancer treatment. Certain treatments may also cause muscle weakness and increase your risk of osteoporosis. Strength training, or resistance training, helps you maintain and build strong muscles and decreases your risk of osteoporosis. Increasing lean muscle mass can also improve your balance, reduce fatigue, make it easier to perform daily activities, and increase your basal metabolic rate (the amount of calories you burn in a day). It can also help fight osteoporosis, a weakening of the bones that some cancer treatments can cause.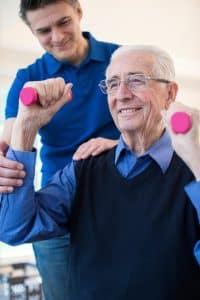 It is important to take precautions while exercising if you are having side effects from your cancer or its treatment. If your blood counts are low, it. may increase your risk of bleeding, bruising, and infection. During these times, it is best if you avoid crowded places as well as public swimming pools, rivers, lakes, or oceans due to the increased risk of infection. 
If you have had vomiting or diarrhea within the past 24-26 hours, you should avoid exercise and opt for rest, hydration, and replenishing your electrolytes.
A CETI Cancer Exercise Specialist will ensure that you progress slowly and safely, according to how you are feeling on any given day. Even if you were an Olympic athlete prior to your diagnosis and treatment, you will need to build up your level of activity slowly to prevent injury and/or lymphedema. You should always feel more energetic after your exercise session. If that is not the case, you are probably doing too much.
Make sure that you always have water on hand so that you can stay hydrated. If you are struggling with weight loss, or gain, find a registered dietician in your area who specializes in oncology. This is important because certain herbs and foods may interfere with the efficacy of your treatment.
If you experience any unusual side effects, or feel like you are running a fever, consult with your physician right away.
About the author: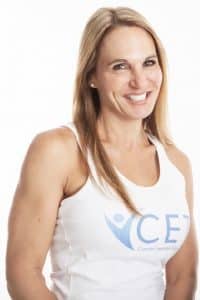 Andrea was the PFP/Club Industry 2019 Personal Trainer of the Year. Since 1992 Andrea has been certified as a Corrective Exercise Specialist and Performance Enhancement Specialist by The National Academy of Sports Medicine (NASM), as a Personal Trainer by The American College of Sports Medicine (ACSM), the National Academy of Sports Medicine (NASM), and the American Council on Exercise (ACE), as a Special Populations Expert by The Cooper Institute.
Andrea is  a subject matter expert for Medical Wellness Association, chairperson for the Medical Fitness Foundation Education Advisory Board and  on the advisory board for the MedFit Network .
Andrea  is a 38-year cancer survivor and has/had 23 first-degree relatives diagnosed with cancer. In 2015 she lost her father, Morton, to complications of bladder cancer and prostate cancer, and myelodysplastic syndrome. Her mother is currently fighting stage 4 metastatic breast cancer after a 23-year remission.
At the age of eighteen, Andrea was diagnosed with thyroid cancer and underwent a complete thyroidectomy and radioactive iodine treatment. Following her surgery, Andrea was challenged with a new, sluggish metabolism, and weight gain. It was through her own personal struggles to regain her previous energy level and physique that Andrea decided to become a personal trainer. She wanted to be able to help others, like herself, who struggled with the same issues of weight gain and poor self-esteem. Andrea graduated from the University of MD in 1990 with a degree in Criminal Justice, but quickly realized that she was in the wrong profession. She avidly pursued a career as a personal trainer.
Andrea began training in 1992 and worked at the National Capital YMCA in Washington, D.C. She quickly worked her way up to Director of Personal Training and ran the department for several years. While working at the YMCA, Andrea started Leading Edge Fitness and EMPOWER- Energizing, Mobilizing, Post-Operative Workout Enhancing Recovery. In 1996 Andrea's mom was diagnosed for the second time with breast cancer. She watched her mother struggle through the trauma of multiple surgeries, reconstruction, a frozen shoulder, and addiction to narcotics in order to cope with the pain associated with her surgeries.
Inspired by her mother, Andrea, along with a medical advisory board from Georgetown University, George Washington University, and Johns' Hopkins University Medical Centers, set out to write "Essential Exercises for Breast Cancer Survivors." The goal was to help the millions of men and women, like her mother, to gain back their strength, range of motion, and self-esteem (among other things), following breast cancer surgery and treatment. The book was published by Harvard Common Press in 2000. Shortly thereafter, Andrea founded The Breast Cancer Survivor's Foundation, a 501c3 public charity—to better the lives of cancer survivors and their families.
Realizing that she is limited to helping a certain number of clients per week, Andrea founded The Cancer Exercise Training Institute in 2004 and developed the Cancer Exercise Specialist®  and Breast Cancer Recovery BOSU® Specialist™ Advanced Qualifications for health and fitness professionals. Through this program she has been able to pass on her wealth of knowledge, and enable health and fitness professionals around the world, to work safely and confidently with cancer patients. Through CETI's Advanced Qualification live workshops and home study, participants learn about twenty-six types of cancer and pediatrics, their surgeries, treatments, lymphedema identification, prevention, and treatment, reconstructive procedures, contraindications, side-effects and so much more. Following a comprehensive examination, attendees are awarded the Cancer Exercise Specialist®  and/or Breast Cancer Recovery BOSU®  Specialist ™Advanced Qualifications. 
Andrea has presented the Cancer Exercise Specialist Workshop around the world and has been a guest speaker at IDEA World, Healthy Aging Summit, Asia Fitness Conference, CPTN Personal Training Conference, IRHSA, TSI Summit, Medical Fitness Tour, Kaiser Permanente Thriving with Cancer Conference, Winona State University – Survivors Unite, McHenry Community College, New York Institute of Technology, OHSU School of Nursing, Edwards Hospital, Georgetown University Hospital, Suburban/Johns' Hopkins, Mennonite Cancer Foundation, South Georgia Medical Center, Cary Medical Center Lynchburg General Hospital, Chesapeake Regional Medical Center, Sibley Hospital, Memorial Hermann, Sandford Health System, Avera McKennan Prairie Cancer Center, Baptist Hospital East, Patricia Neal Rehab. Center, St. Mary's, Baptist Health System, Southeast Georgia Cancer Coalition, and Fort Bliss Army Installation.
Andrea has written 17 books on the subject of cancer and exercise and is a sought after speaker and author. She has contributed to PFP Magazine, ACE Certified, ACE Blog, NOU Magazine, Club Solutions Magazine, Bethesda Today, Capital Gazette, NASM's Training Edge Magazine, Lake Oswego Review, Portland Tribune, The Oregonian, The Tidings inHealthOhio Blog and News, Capital Style, The Examiner, The Washington Post, Dallas Morning News, 4Wholeness.com, SpecialFit, and has appeared in countless videos including the Heartflex Breast Cancer Recovery video and been a regular fitness expert on AMNW.
The Cancer Exercise Training Institute is considered the gold-standard of education in oncology exercise and has trained more individuals than any other organization in the world.