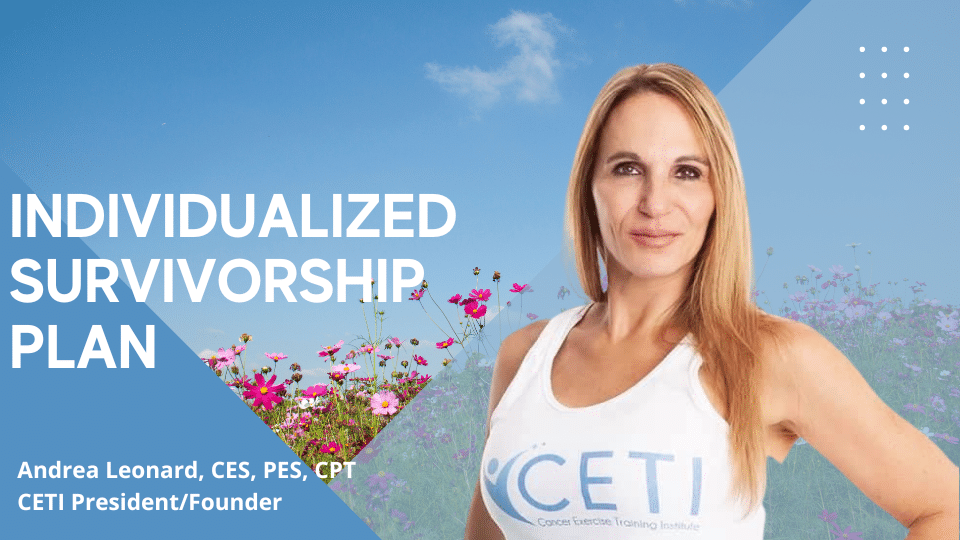 Andrea has personally trained over 17,000 Cancer Exercise Specialists worldwide and has not accepted new clients for the last five years. Her goal for 2023 is to devote a portion of her time to helping cancer patients and survivors reclaim their bodies, energy, self-esteem, strength, and overall quality of life with individualized exercise and nutrition programs.
­
Andrea Leonard is a 39-year cancer survivor, author of "Essential Exercises for Breast Cancer Survivors," world-renowned oncology exercise expert, 2019 PFP Personal Trainer of the Year, Functional Nutrition Graduate Student, and President/Founder of the Cancer Exercise Training Institute.
5. If you choose to drink, limit yourself to an average of one drink a day
6. Avoid unnecessary exposure to radiation
7. Avoid exposure to industrial and environmental such as asbestos fibers, benzene, aromatic amines, and polychlorinated biphenyls (PCBs)
8. Avoid infections that contribute to cancer, including hepatitis viruses, HIV, and the human papillomavirus
9. Make quality sleep a priority
10. Get enough vitamin D
By achieving good overall health, proper nutrition can help reduce the risk of cancer, keep you healthier during treatment, and combat side effects and illness. Andrea will work together with you to create a personalized survivorship roadmap that will help you to boost your immune system, increase your strength and energy, and reduce the risk of injury and comorbidities such as diabetes, osteoporosis, lymphedema, CVD, and future cancers. While genetics certainly play a role in our overall health, somatic changes that occur over a lifetime from environmental toxins and oxidative stress may be an even bigger predictor of disease or wellness. You are in control of your health and Andrea will arm you with the tools you need to live your best life.
This package includes:
A step-by-step plan that focuses on integrative care measures designed to meet your specific needs and goals
A simple guide for shopping for non-toxic health, beauty, personal care, and household product
A personalized HAPPINESS coaching session and goal setting
A comprehensive fitness assessment and health history review. This includes a postural and range of motion assessment to determine muscle imbalances and limited joint range of motion (this can occur post-surgery/radiation, cause pain, and lead to joint degeneration, arthritis, and injury), balance and stability assessment, and biomechanical (movement) analysis.
A personalized 3-month exercise program that addresses treatment side effects as well as future risks
Benefits:
More energy, self-confidence, and improved self-esteem
Reduced stress and anxiety and more HAPPINESS in your life
Increased ability to perform daily activities and return to work or sport
A strong disease-resistant immune system
Lose body fat, increase lean muscle, and boost your calorie-burning potential
Regain range of motion and correct muscle imbalances that can lead to joint degeneration, arthritis, and injury
Improve your balance and reduce your risk of falling and injury
The confidence that you are taking steps to improve your overall health and be there for yourself and your loved ones