Become an industry leader...learn to create safe and effective exercise programming for improving health and vitality.
As a health and fitness professional, you can fill an immense need by helping those at high risk with preventative exercise and by improving health during and after medical treatment
Millions are diagnosed with cancer and chronic health issues every year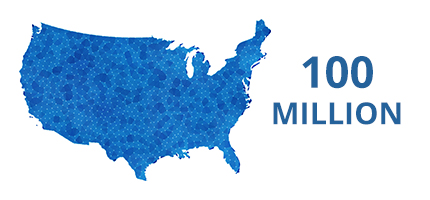 100 million at high risk for chronic
disease in the USA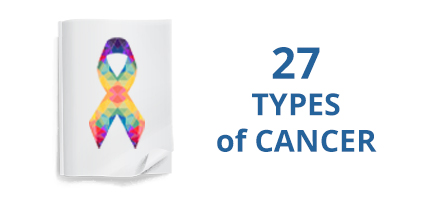 50 million cancer survivors worldwide
Learn about 27 cancer types
#1 Cancer & Aging Exercise Educator in the world

As a health and fitness professional you have an unprecedented opportunity to help millions who need guidance with exercise and create a niche market for yourself.
Become the local expert, plus learn how to virtually train those with
compromised immune systems who cannot go to a clinic or health club.
Expand your reach around the world.
Exercise and physical activity is one of the best tools to boost health, improve life expectancy and reduce treatment side effects.
- There is a reason for the creation of the term "Exercise is Medicine" -

HOW EXERCISE CHANGES LIVES
Improve overall health and reduce cancer risk factors
Help patients throughout treatment and reduce severity of side effects
Minimize chance of recurrence
Mitigate acute and chronic side effects
Increase life expectancy and enhance quality of life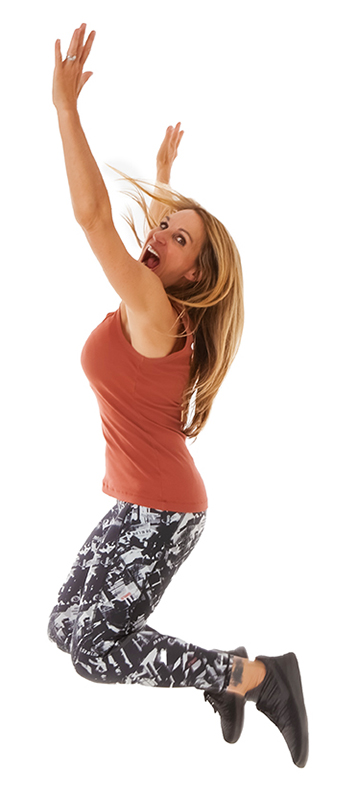 A safe, customized and effective exercise program helps clients experience...
Depression, Anxiety, Pain, Injury, Fatigue, Disease Recurrence
Coping, Strength, Energy, Endurance, Mobility, Sleep Quality, Ease in Activities of Daily Living, Functional Movement, Range of Motion, Posture, Balance
Cancer patients, survivors and those with chronic health risks are less active than the general population
They all want and need help when it comes to exercise
But there is a severe lack of health & fitness professionals who have the expertise required to support cancer patients and older adults with chronic conditions
This is because working with chronic conditions, cancer patients & survivors requires a much more knowledgeable and customized approach

If you've ever considered working with the cancer and aging population, perhaps you've wondered:

What credentials do I need to work with special needs clients?


What are the liabilities?


What are the recommendations and guidelines for working with cancer survivors and those with chronic conditions?


How can I customize those guidelines to work for each client?


What are the risks I need to be aware of?


How do I conduct an effective assessment before we begin?


What do I need to know about each type of cancer or condition?


How will current treatments affect my recommendations?


What is appropriate at different stages of the cancer and chronic disease journey?


How can I help my clients build healthy habits & exercise behaviors that stick?
Don't take unnecessary risks with cancer patients/survivors and clients with chronic conditions. Let us provide you with the most current and evidence-based education to create safe and effective action plans.
You will get the tools, confidence and support of the global leader in cancer and aging exercise education

(From prevention, to treatment and recovery, and across the entire health spectrum)

Andrea is a 37 year cancer survivor, has authored 17 books on the subject of cancer and exercise and is a sought after speaker, author and educator for cancer exercise training around the world.

She was the PFP/Club Industry 2019 Personal Trainer of the Year with career certifications from NASM, ACSM, ACE and the Cooper Institute. She is a subject matter expert for the Medical Wellness Association, chairperson for the Medical Fitness Foundation Education Advisory Board, and advisory board member for the MedFit Network.
The Cancer Exercise Training Institute is considered the gold-standard of education in oncology exercise and has trained more individuals than any other organization in the world.
Founder and President of the Cancer Exercise Training Institute
"Andrea knew that her calling in life was to help make a difference in the lives of cancer patients worldwide." – E.G. Beres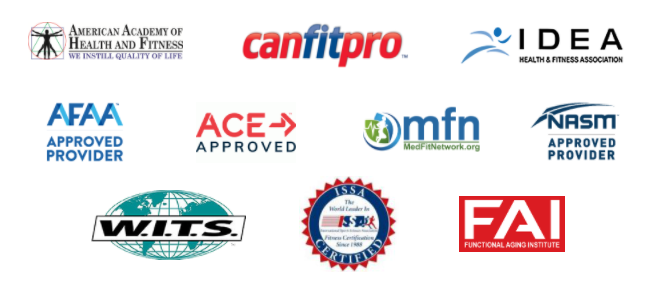 Dr. Jay Harness, the CETI Medical Director, is a past-President of The American Society of Breast Surgeons and Breast Surgery International. He is a full-time breast surgeon at the St. Joseph Hospital Center For Cancer Prevention & Treatment in Orange, California. Dr. Harness specializes in breast surgery and surgical oncology and has practiced for 40 years. He developed three of the nation's multidisciplinary breast centers at the University of Michigan, at St. Elizabeth's Medical Center and the University of California. He is currently a clinical professor of surgery at the University of California, Irvine. Dr. Harness is recognized nationally and internationally for his work in breast and endocrine surgery. He's authored over 80 scientific articles and book chapters and has been the lead editor of 2 textbooks.
Medical Advisory Board Leader

CETI is the global leader in cancer exercise training over the past
25 years, training over 12,000 professionals in 40 countries.
As a Cancer/Aging Exercise Specialist you will possess practical hands-on skills needed
to guide clients, patients and survivors through treatment, recovery and long term survivorship - you will become the next step in the health care continuum.

We provide online courses developed specifically for health & fitness professionals who want to work with cancer and high risk populations.
Comprehensive books, video training, quizzes and exams. Online, virtual and live course options.
Regularl updates with peer-reviewed and evidence-based information.
Email/ phone support with optional one-on-one sessions and business support.

Upon completion you'll receive an Advanced Qualification certificate that can be renewed every 2 years with the latest training materials.
Breast Cancer Recovery
BOSU Specialist


Functional Aging Specialist


Pilates Mat Certificate


Clinical Exercise Specialist


Yoga for Cancer Exercise
(coming soon)


Pilates for Cancer Exercise
(coming soon)

ADD MORE TO YOUR
QUALIFICATIONS WITH CETI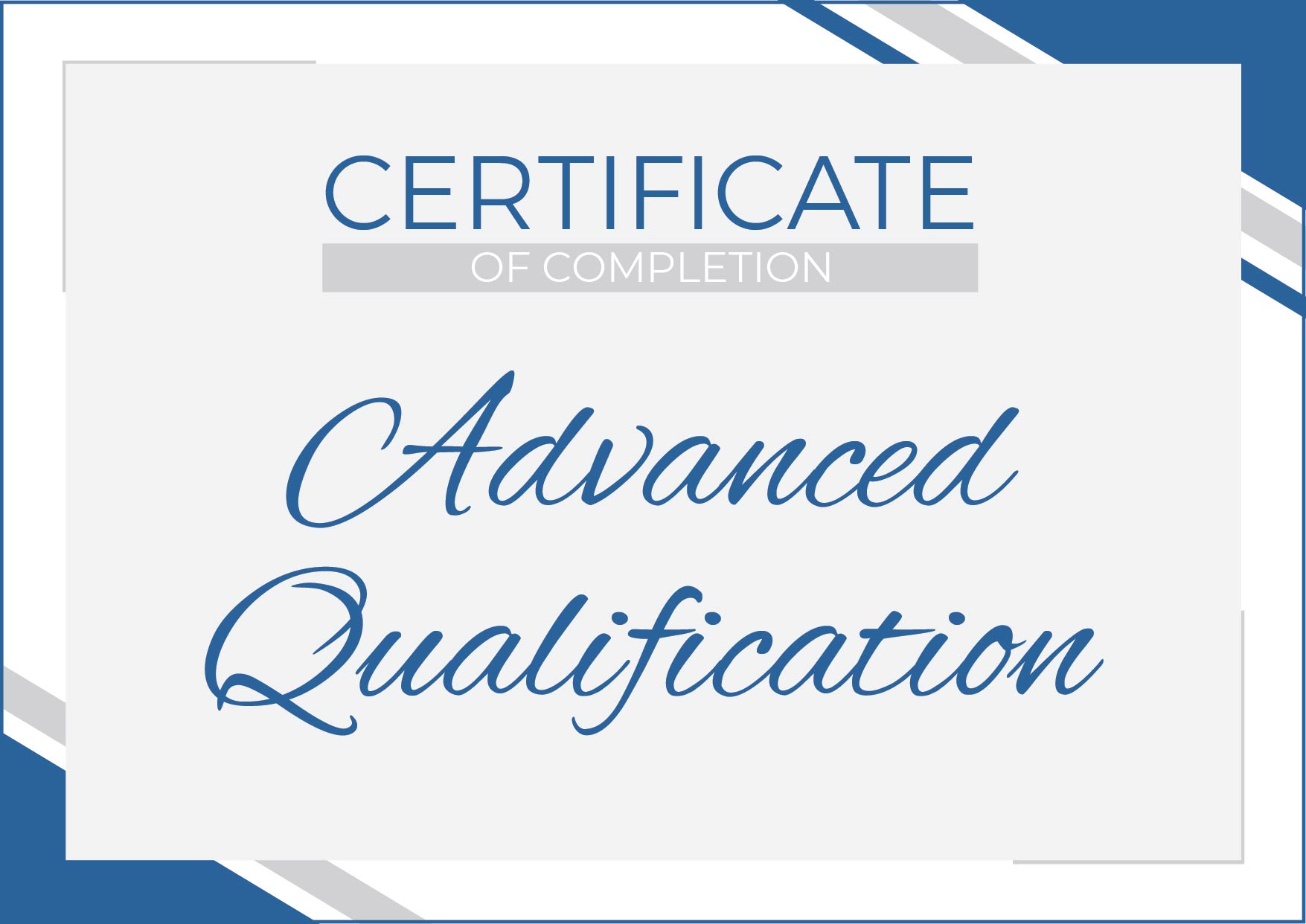 Course introductions from Dr. Harness and Dr. Mikeska with a review of the curriculum and successful study methods.
Here's what you will learn in the Cancer Exercise Specialist Advanced Qualification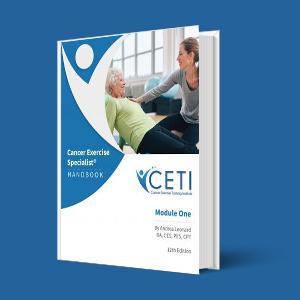 Get an in-depth look at the most common surgical procedures for 26 of the most common cancer types, as well as pediatrics. Experience a video-based session, as well as a comprehensive manual, on the subject matter. Gain a deeper insight into acute and chronic side-effects and contraindications of surgical procedures, cancer staging, genetics, and the human biome/immune system. Experience a video-introduction and welcome from Dr. Jay Harness and a video by Dr. La Gary Carter on "Exercise as Medicine" as well as a comprehensive manual and practice test on the subject matter.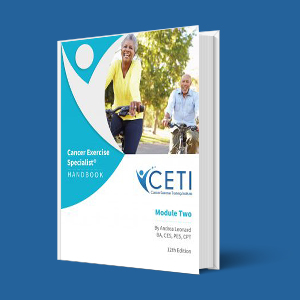 Learn about risk factors for breast cancer, recommended surgeries, treatment, and reconstruction as well as side-effects/complications, and lymphedema prevention and management. Experience video-based sessions by Denise Stewart, OT, on scar tissue awareness, Upper and lower extremity lymph drainage exercise programming by Andrea Leonard, and Cancer and Comorbidities by Dr. Dan Mikeska, as well as a comprehensive manual and practice test on the subject matter.
Learn how to conduct a postural assessment, goniometric measurements, and several other testing methods. Determine individualized programming based on range of motion limitations, postural deviations, and acute and chronic side-effects. Use manual stretching techniques to help with muscle imbalances and range of motion limitations. Techniques for core strengthening, proprioception and balance. Video sessions on assessment protocol. Comprehensive manual and practice test for the subject matter.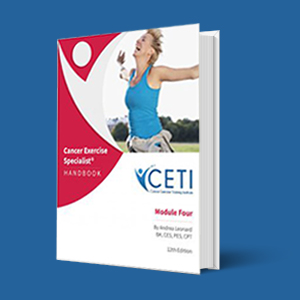 Gain critical knowledge about how a properly prescribed and executed exercise program can help cancer patients and survivors to combat fatigue, decrease depression and pain, and how diet can play a critical role in treatment as well as long-term survivorship. Includes "Conquering Cancer with Nutrition," by Dr. Glenn B. Gero. Video discussion with Dr. Tami De La Melena. Comprehensive manual and practice test. Forms to help you build your business, creating your CETI CES listing, customized exercise programming services, support groups and more.
Types of Breast Cancer

Risk Factors

Breast Surgery and Reconstruction

Cancer Treatment

Neurological Complications

Lymphedema
Benefits of Exercise

Cancer Related Pain

Mental and Physical Fatigue

Survivorship

Psychology of Fitness
Cancer Treatment and Weight management

Alcohol and Cancer Risk

Conquering Cancer with Nutrition

Taking Control of Your Emotions

Working with Medical Community
Posture, Pain and Muscle Imbalance
Conducting a Comprehensive Assessment
Correcting Muscle Imbalances and Exercise Programming
Cardiorespiratory Fitness and Exercise Intensity
Common Side-effects, Complications, and Recommendations
How to Use a Goniometer/Correcting Range of Motion Limitations and Exercise Programming
Core and Balance Exercises
Manual Stretching Techniques
Cancer Staging
Genetics
The Immune System and human biome
Surgical Incisions
Acute and Chronic Side-effects
Contraindications

"This is a pioneering concept by Andrea and CETI. The whole concept
of taking health and fitness professionals and giving them additional training to become legitimate specialists in the care and treatment of cancer patients is a unique and valuable program. I've gone through the modules and they are outstanding. In my world of breast cancer, people with this level of cancer exercise training are really needed."
Learn how to virtually train those with compromised immune systems who cannot go to a clinic or health club. Help them in the comfort of their own homes. Expand your reach around the world!
Learn to Provide
Virtual Client Sessions

Here is what is also included with your enrollment

Get instant access now to our top course for health, fitness and medical professionals: the Cancer Exercise Specialist Advanced Qualification
Contact us for discounted group rates or try our monthly payment plan

Add Printed Handbooks Only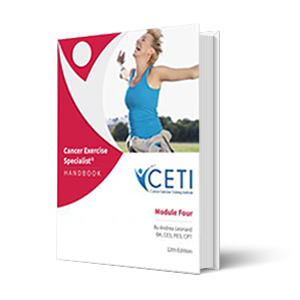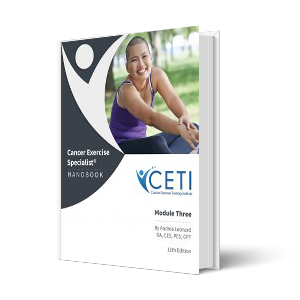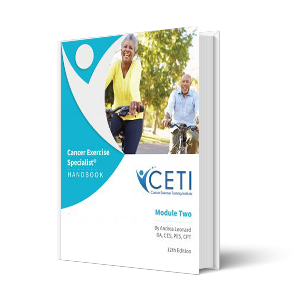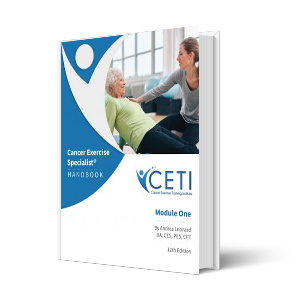 Learn about 27 cancer types, so you can assess, guide and support your clients to better health and longer life
SEE WHAT OUR GRADUATES HAVE TO SAY
"I am so thankful to have been a part of CETI. This was by far one of the best fitness education courses I have ever taken. I would recommend this course to anyone who is interested in working with cancer survivors or patients."

"As a graduate of CETI, I will tell you that it was the best certification I have ever taken! The ongoing support from Andrea and our CES community has been invaluable in helping me to build and grow my business."
"I recently completed the Cancer Exercise Specialist course. I would highly recommend this course to anyone who is interested in learning how to serve cancer patients/survivors. The information and knowledge, along with the guidance and support you will receive is invaluable. I can honestly say since completing this course, I feel well prepared and excited to start empowering those who have been affected by cancer. Thank you Andrea and the team at CETI."
- Maurice Crocker, CPT, CES, Showtime Physique Personal Training and Fitness Studio
"Cancer strips you of everything: hair, body, self-esteem, self confidence, finances, family... as a Cancer Exercise Specialist you have the unique opportunity to help people take control of their lives and bodies at a time where they feel they have no control."
4 online training modules with over 40 videos


Video lectures from 6 top professionals in oncology and exercise


Printable handbooks and training materials


Over 500 pages of materials


Quizzes for each module to assist your learning


Detailed case studies to help you assess clients


Cancer Exercise Specialist Advanced Qualification


Certificate upon passing the final exam


CETI team for questions and support


Private Facebook group to interact with fellow specialists



Access to exclusive programs to help you grow your business
ENROLL TODAY TO GET INSTANT ACCESS TO: