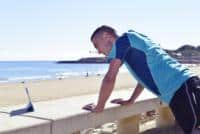 For the majority of people around the world, the coronavirus only causes mild to moderate symptoms, similar to a cold or flu. For those that are at a higher risk, older adults and people with an already-compromised immune system, it can cause more severe illness that may lead to pneumonia. 
Although we are all cooped-up in our homes, it is critical to maintain (or begin) a healthy lifestyle starting with a well-rounded diet full of healthy fruits and vegetables, fiber, and an adequate amount of protein, get plenty of Vitamin C, at least 8 hours of sleep a night, daily exercise, and find a way to manage your stress. Not only will this help you maintain some level of sanity, it will enhance your immune response and make/keep your immune system strong to fight threats like COVID-19. 
Thousands of people young and old have been displaced from their gyms and health clubs. Many are feeling isolated, scared, and depressed. People who are used to a robust social circle are finding themselves alone. Those that were already dealing with disease and a compromised immune system are more isolated than ever.
Although many of us are fearful of what's to come economically, we must continue to forge ahead; especially when it comes to health and fitness. Many of your clients are retired and have the means to pay for your services regardless of an economic upheaval, while others simply place a great deal of importance on their need to get, or stay, healthy and fit. 
Offer a special discounted rate, maybe sell a month-long package to get and keep them engaged. This is where your personality, compassion, and caring will really need to shine through. You get to come into your client's living room, kitchen, backyard, or wherever they chose to place their tablet, and be that ray of sunshine to inspire them! Whether or not your clients will continue to work with you in this online "virtual" format will depend a good deal on their perceived value of your services. How can you deliver the goods with the same efficacy as you did in person.
If you are working with existing clients you have already created a program for them and know their goals as well as limitations. Hopefully you have already conducted an initial assessment and addressed any postural or biomechanical issues. If not, now is as good a time as ever. You can certainly conduct a postural assessment and a battery of movement tests virtually. It is not as optimal as in-person, but can be quite effective. For those of you who are looking to gain new clients, consider offering a FREE intake that includes a posture screen and movement analysis. There are a number of apps that you can use for posture, but you can also instruct your client to move in different directions that will allow you to do it virtually as well.  If you want to take your online training to the next level and learn more about next steps, consider joining the CES Business Builder Mastermind Group.
Try something new with your client. Maybe they don't have the same equipment that you had at the gym. Show them how to use paper plates for abduction/adduction and or sliding lunges. Counter-top push-ups, chair dips, squats holding a water jug, jogging in place, jumping jacks, stair climbing, etc. Keep it interesting and consider changing it up every time. Remember that you are competing with a lot of other fitness trainers that are offering their classes free of charge. Go the extra mile and check-in through phone or email on your client's off days. Give them "homework" and make sure that they are staying committed. Ask them how their energy is, if they have any aches or pains, how their mental state is, if they would like to try a new recipe etc. Offer to have a cooking session with them or teach them how to make healthy and delicious snacks. This can all be done virtually. You get to be the next "Julia Child."
If the weather is suitable, consider taking the workout outside. Have your client take their tablet or laptop outside  and let them soak in nature's beauty while you take them through their exercise routine. Now is a perfect time to introduce some breathing exercises, meditation, and yoga. Even if you are not a yoga instructor you can use some basic yoga poses for relaxation and recovery.
Please take care of yourself and your family during this difficult time. We will all get through this and good things will be waiting for us on the other side.