Pumpkin Biscotti Cancer-Fighting Recipe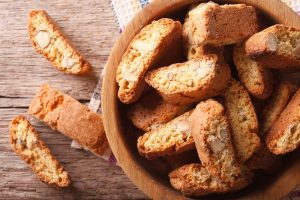 These pumpkin biscotti are exactly what you want them to be. Although they are good without, the white chocolate icing gives them a wintry decadence and a creamy deliciousness that's perfect for the Fall.
Ingredients
3 eggs
½ cup canned pumpkin puree
¼ cup olive oil
3½ cups all-purpose flour
2 cups granulated sugar
1 tablespoon baking powder
1 tablespoon pumpkin pie spice
¼ cup raw sugar
1 pound white chocolate
Directions
Preheat oven to 350°F. Line two cookie sheets with parchment paper.
In the bowl of a stand mixer, fitted with the paddle attachment, combine the eggs, pumpkin, and olive oil until smooth.
In a separate bowl, stir together the flour, granulated sugar, baking powder and pumpkin spice. Add the dry ingredients to the wet ingredients. Mix together on low speed until a dough just starts to form.
Remove the dough from the mixer and knead gently by hand, just until flour is incorporated. Divide the dough into four equal pieces and shape into logs. Place two logs on each baking sheet, making sure they have enough room to expand. Sprinkle the top of each dough log with the raw sugar. Bake 30 minutes. Remove from the oven and let cool.
Slice the biscotti logs into half-inch slices. Lay each cookie flat on the same baking sheet and place them back into the oven so that they can lightly toast, about 5 to 10 minutes.
Melt the chocolate over a double boiler. Dip one end of each biscotti in chocolate. Place them on a baking sheet lined with wax paper. Chill until chocolate hardens, about 30 minutes.
****If you'd prefer it, you can use bittersweet dark chocolate to dip your biscotti in. Melt it using the same method as for the white chocolate.