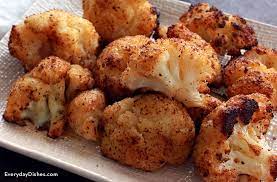 Spiced Oven-Roasted Cauliflower
INGREDIENTS:
2 tablespoons grapeseed, canola, or coconut oil
1 teaspoon turmeric
1 teaspoon cumin seeds
1 large cauliflower (about 2½ – 3 pounds), cut into medium-sized florets
1 teaspoon salt, or to taste
DIRECTIONS:
Preheat the oven to 400 degrees.
In a large bowl, mix together the oil, turmeric, and cumin seeds. Add the cauliflower and toss together until well coated.
Take a non-stick cookie sheet (or a baking sheet lined with aluminum foil), rub with a little extra oil on it, and put in the oven for 5 minutes to heat up. Once it has been heated, pour the cauliflower onto the sheet and spread out into a single layer. Sprinkle with salt.
Return to the sheet to oven and bake on a high shelf. Gently turn the cauliflower from time to time until the florets are tender and have golden brown spots all over, about 25 to 30 minutes.
Recipe Provided by: 
https://www.cookforyourlife.org/recipes/spiced-oven-roasted-cauliflower-2/