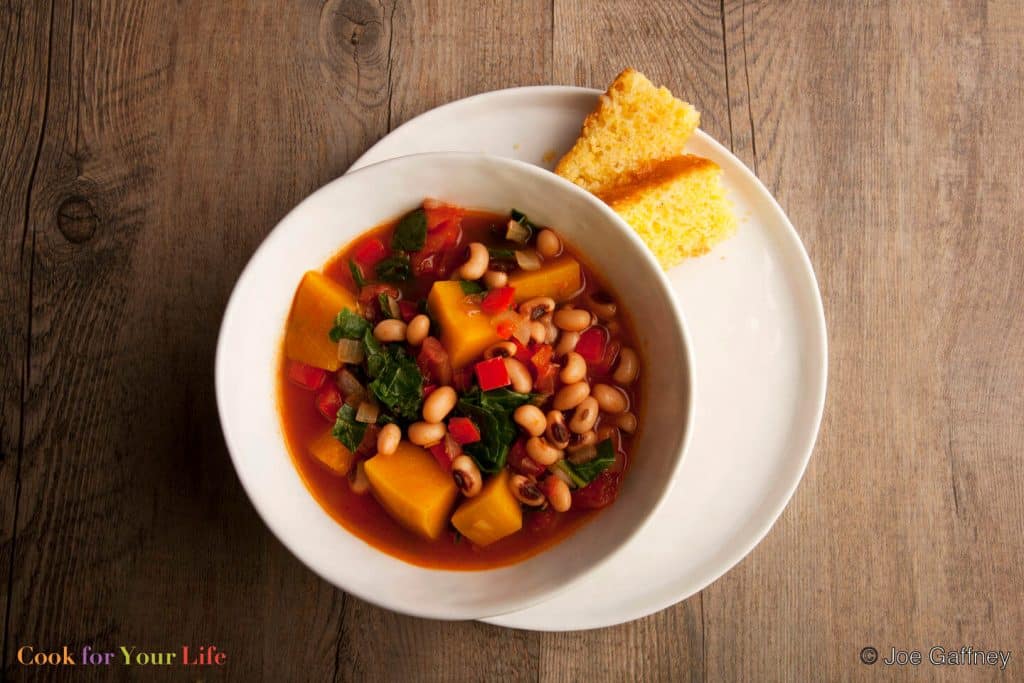 Black Eyed-Pea & Pumpkin Stew
INGREDIENTS:
2 tablespoons olive oil
1 teaspoon cumin seeds
2 cloves garlic, sliced
Salt, to taste
1 onion, chopped
1 red bell pepper or orange bell pepper or yellow bell pepper, diced
1 small bunch collard greens, stems discarded, leaves roughly cut into 1-inch pieces
1 small kabocha squash or pumpkin, seeds removed, peeled, and cut into 1-inch cubes
1 cup canned diced tomatoes
1 (14-ounce) can black eyed-peas, drained and rinsed or 1 recipe of our Black Eyed-Peas
2 dried chipotle chilies
Water or broth, as needed
1 whole stem cilantro
2 to 3 handfuls arugula or spinach (optional)
DIRECTIONS:
Heat oil in a stockpot over medium-high heat. Add cumin seeds, toast for 1 minute, or until fragrant.  Add the garlic and cook until it just begins to turn golden. Add onions, peppers, and a sprinkle of salt. Sauté until the onion starts to turn transparent.
Add collards and cook until they begin wilt. Add kabocha, mix well and partially cover. Cook for 5 to 7 minutes or until the kabocha begins to soften.
Add tomatoes and cook over a high heat until they begin to turn an orangey red. Add the black eyed-peas, chipotle, and enough water or broth to just cover the vegetables. Lay a cilantro stem on top, bring to a boil, then cover and simmer for 20-30 minutes or until the kabocha is soft.
Remove the cilantro and taste for salt. Stir in the arugula or spinach, if using. Let the stew sit for another 5-10 minutes. 
Recipe Provided by: 
https://www.cookforyourlife.org/recipes/spiced-oven-roasted-cauliflower-2/