Cancer-Fighting Recipe - Sweet Potato & Kale Farinata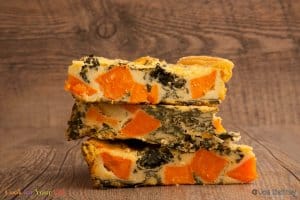 Ingredients
⅓ cup plus 2 tablespoons olive oil
½ cup silken tofu
1¼ cups cold water
1 cup chickpea flour (see Ann's Tips)
1 teaspoon baking powder
½ teaspoon salt
½ teaspoon smoked paprika (optional)
1½ cups cooked kale, chopped
1½ cups cooked sweet potato, diced
Directions
Preheat the oven to 375 degrees with a heat proof or cast iron skillet on the middle shelf.
Beat ⅓ cup olive oil with the tofu until smooth. Gradually add in ½ cup of water, beating continuously.
Sift in the flour, baking powder, salt, and smoked paprika, if using. Beat until roughly blended. Gradually add in the remaining water, ¼ cup at a time, beating all the while until you have a thick smooth batter the consistency of heavy cream. There should be no lumps. Fold in the kale and then the diced sweet potato.
Take the hot skillet out of the oven. Add the remaining 2 tablespoons of olive oil to the skillet and gently swirl to coat. Pour the batter into the hot skillet. Put the skillet directly into the oven and bake for 40 to 45 minutes until well risen and golden and a toothpick comes out clean.
Let the farinata cool in the pan on a rack. It will sink somewhat. Loosen the edges and turn out onto a plate. Serve in wedges warm or at room temperature.
Recipe provided by: https://www.cookforyourlife.org/recipes/sweet-potato-kale-farinata/