Customized Exercise Programming - Colorectal Cancer
Customized Exercise Programming
Colorectal Cancer cancer is the third most commonly occurring cancer in men and the second most commonly occurring cancer in women. There were over 1.93 million new cases and 0.94 million deaths worldwide in 2020. Incidence rates have been decreasing for most of the past two decades due to colorectal screening tests that allow for early detection and removal of polyps before they turn into cancer. Incidence rates have, however, increased by nearly 2% in people younger than age 50. The global new CRC cases is predicted to reach 3.2 million in 2040, with China and the United States having the highest estimated number of new CRC cases in the next 20 years.
Colorectal cancer refers to cancer of the large intestine.
The first five feet of the intestine is called the colon (bowel) and the last six to eight inches is called the rectum. It is sometimes difficult to pinpoint a tumor in the large bowel and, therefore, the colon and rectum are often grouped together as the colorectum. Colon cancer and rectal cancer have many features in common.
Most colorectal cancers start as a growth on the inner lining of the colon or rectum. These growths are called polyps. Some types of polyps can change into cancer over the course of many years, but not all polyps will become cancerous. The chance of a polyp changing into cancer depends on the type of polyp it is. The 2 main types of polyps are:
Other factors that can increase someone's risk of developing colorectal cancer include:
A polyp larger than 1 cm
Having more than 2 polyps
Studies indicate that certain lifestyle factors increase the risk of colorectal cancer:
A diet high in red, processed, or heavily cooked meats
Lack of exercise
Obesity, particularly having excess fat in the waist area, rather than the hips or thighs
Type II diabetes
Being black
Personal history of chronic inflammatory bowel disease (ulcerative colitis or Crohn's disease), cancer of the colon, rectum, or ovaries
Having a personal history of high-risk colorectal polyps
Cigarette smoking – a 30-40% greater risk than nonsmokers to die of colorectal cancer
Heavy alcohol consumption
Inherited genetic conditions (lynch Syndrome & hereditary non-polyposis colorectal cancer or familial adenomatous polyposis (FAP)
Family history
Consumption of milk and calcium (higher blood levels of vitamin D) seems to decrease the risk of colorectal cancer Regular use of NSAIDs (nonsteroidal anti-inflammatory drugs) such as aspirin may also reduce the risk. Unfortunately, these drugs can have their own serious adverse health consequences, so they are not recommended for people at "average" risk. Starting at age 50, men and women with "average" risk should begin screening to detect and allow for the removal of colorectal polyps that could potentially become cancerous.
Following a total colectomy, patients will stay in the hospital until they regain bowel function which may take a couple of days to a week. It will take several weeks for a full recovery. Walking is essential to a smooth recovery and should be a part of each day's activities in the recovery period. Patients should avoid lifting anything over ten pounds for the first 1-2 months.
Following a proctectomy, patients will remain in the hospital for 4-7 days and full recovery may take up to three months. Patients should begin walking soon after surgery and incorporate it daily. No heavy lifting for six weeks.
Following a colostomy, patients will remain in the hospital for 3-10 days and full recovery may take up to six weeks. Patients should avoid contact or "rough" sports. The surgical incision should be completely healed before lifting weights and special attention should be paid if performing "crunch-type" exercises
Following a low anterior resection, most patients spend 4-6 days in the hospital after a low anterior resection, depending on how the surgery was done and their overall health. Full recovery may take 3-6 weeks. Patients should begin walking and performing Kegel exercises soon after surgery and incorporate both daily. Continuing to do Kegel exercises after the ileostomy is closed will keep anal sphincter muscles strong. Patients should not lift anything heavier than ten pounds, strain, or do strenuous exercise for at least 6 weeks after surgery.
Following an abdominal perineal resection, most patients spend several days in the hospital after an APR, depending on how the surgery is done and their overall health. Recovery time at home may be 3 to 6 weeks.
Following a total mesorectal excision, most patients spend several days in the hospital after surgery, depending on how it was done and their overall health. It could take 3 to 6 weeks to recover at home Patients can start doing pelvic floor muscle exercises 2-3 weeks after stoma closure.
Following pelvic exenteration, most patients will spend at least 7-10 days in the hospital with full recovery taking at least three months. Early walking and deep breathing should be encouraged to prevent blood clots and pneumonia. Care should be taken with lifting, bending, or stretching, particularly in the first few weeks after surgery. If a vaginal reconstruction is done, patients will only be able to lie on their back, side, or stand; they will be unable to sit for 6-8 weeks.
Points to remember:
If your client has diarrhea or vomiting, they should NOT exercise for 24-26 hours and they must re-hydrate and replenish electrolytes
If they have chills, fever, and abdominal pain, they must report this to their doctor immediately
If lymph nodes are removed or irradiated. take initial lower body measurements, begin each exercise session with lower body lymph drainage exercises, and make sure the client is wearing compression garments if they have been prescribed.
To learn more about colorectal cancer and 26 other cancers, consider becoming a Cancer Exercise Specialist.
About the author: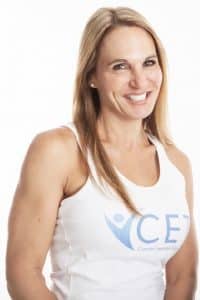 Andrea was the PFP/Club Industry 2019 Personal Trainer of the Year. Since 1992 Andrea has been certified as a Corrective Exercise Specialist and Performance Enhancement Specialist by The National Academy of Sports Medicine (NASM), as a Personal Trainer by The American College of Sports Medicine (ACSM), the National Academy of Sports Medicine (NASM), and the American Council on Exercise (ACE), as a Special Populations Expert by The Cooper Institute.
Andrea is  a subject matter expert for Medical Wellness Association, chairperson for the Medical Fitness Foundation Education Advisory Board and  on the advisory board for the MedFit Network .
Andrea  is a 38-year cancer survivor and has/had 23 first-degree relatives diagnosed with cancer. In 2015 she lost her father, Morton, to complications of bladder cancer and prostate cancer, and myelodysplastic syndrome. Her mother is currently fighting stage 4 metastatic breast cancer after a 23-year remission.
At the age of eighteen, Andrea was diagnosed with thyroid cancer and underwent a complete thyroidectomy and radioactive iodine treatment. Following her surgery, Andrea was challenged with a new, sluggish metabolism, and weight gain. It was through her own personal struggles to regain her previous energy level and physique that Andrea decided to become a personal trainer. She wanted to be able to help others, like herself, who struggled with the same issues of weight gain and poor self-esteem. Andrea graduated from the University of MD in 1990 with a degree in Criminal Justice, but quickly realized that she was in the wrong profession. She avidly pursued a career as a personal trainer.
Andrea began training in 1992 and worked at the National Capital YMCA in Washington, D.C. She quickly worked her way up to Director of Personal Training and ran the department for several years. While working at the YMCA, Andrea started Leading Edge Fitness and EMPOWER- Energizing, Mobilizing, Post-Operative Workout Enhancing Recovery. In 1996 Andrea's mom was diagnosed for the second time with breast cancer. She watched her mother struggle through the trauma of multiple surgeries, reconstruction, a frozen shoulder, and addiction to narcotics in order to cope with the pain associated with her surgeries.
Inspired by her mother, Andrea, along with a medical advisory board from Georgetown University, George Washington University, and Johns' Hopkins University Medical Centers, set out to write "Essential Exercises for Breast Cancer Survivors." The goal was to help the millions of men and women, like her mother, to gain back their strength, range of motion, and self-esteem (among other things), following breast cancer surgery and treatment. The book was published by Harvard Common Press in 2000. Shortly thereafter, Andrea founded The Breast Cancer Survivor's Foundation, a 501c3 public charity—to better the lives of cancer survivors and their families.
Realizing that she is limited to helping a certain number of clients per week, Andrea founded The Cancer Exercise Training Institute in 2004 and developed the Cancer Exercise Specialist®  and Breast Cancer Recovery BOSU® Specialist™ Advanced Qualifications for health and fitness professionals. Through this program she has been able to pass on her wealth of knowledge, and enable health and fitness professionals around the world, to work safely and confidently with cancer patients. Through CETI's Advanced Qualification live workshops and home study, participants learn about twenty-six types of cancer and pediatrics, their surgeries, treatments, lymphedema identification, prevention, and treatment, reconstructive procedures, contraindications, side-effects and so much more. Following a comprehensive examination, attendees are awarded the Cancer Exercise Specialist®  and/or Breast Cancer Recovery BOSU®  Specialist ™Advanced Qualifications. 
Andrea has presented the Cancer Exercise Specialist Workshop around the world and has been a guest speaker at IDEA World, Healthy Aging Summit, Asia Fitness Conference, CPTN Personal Training Conference, IRHSA, TSI Summit, Medical Fitness Tour, Kaiser Permanente Thriving with Cancer Conference, Winona State University – Survivors Unite, McHenry Community College, New York Institute of Technology, OHSU School of Nursing, Edwards Hospital, Georgetown University Hospital, Suburban/Johns' Hopkins, Mennonite Cancer Foundation, South Georgia Medical Center, Cary Medical Center Lynchburg General Hospital, Chesapeake Regional Medical Center, Sibley Hospital, Memorial Hermann, Sandford Health System, Avera McKennan Prairie Cancer Center, Baptist Hospital East, Patricia Neal Rehab. Center, St. Mary's, Baptist Health System, Southeast Georgia Cancer Coalition, and Fort Bliss Army Installation.
Andrea has written 17 books on the subject of cancer and exercise and is a sought after speaker and author. She has contributed to PFP Magazine, ACE Certified, ACE Blog, NOU Magazine, Club Solutions Magazine, Bethesda Today, Capital Gazette, NASM's Training Edge Magazine, Lake Oswego Review, Portland Tribune, The Oregonian, The Tidings inHealthOhio Blog and News, Capital Style, The Examiner, The Washington Post, Dallas Morning News, 4Wholeness.com, SpecialFit, and has appeared in countless videos including the Heartflex Breast Cancer Recovery video and been a regular fitness expert on AMNW.
The Cancer Exercise Training Institute is considered the gold-standard of education in oncology exercise and has trained more individuals than any other organization in the world.
If you would like to speak to Andrea about an individualized cancer recovery program that includes lymphedema education and prevention, correcting muscle imbalances and improving range of motion, regaining strength, losing body fat, and enhancing your overall wellness to reduce your risk for second cancers and co-morbidities like diabetes, osteoporosis, heart and lung disease, contact her through the link below.