Cranberry Muffins Cancer-Fighting Recipe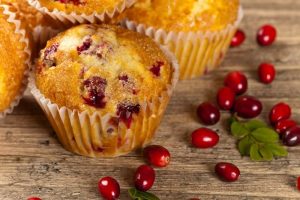 The tartness of cranberries and their subtle sweetness makes for the best muffins. This recipe is very easy, but the trick with muffins is not to over-mix the batter. There should still be streaks of flour in the batter as you spoon it into the tins. Use whole-wheat pastry flour, as it reacts very much like all-purpose flour but adds nutrients. For a lighter muffin, substitute half the whole-wheat pastry flour with all-purpose flour.
Ingredients
2 cups whole-wheat pastry flour (see Chef Tips)
2 teaspoons baking powder
½ teaspoon baking soda
¾ teaspoon salt
½ cup fine brown sugar, plus 1 tablespoon for sprinkling
Grated peel of 1 lemon
1 small ripe banana, mashed
2 large eggs, lightly beaten
1 cup buttermilk
¼ teaspoon vanilla essence
6 tablespoons unsalted butter, melted
1½ cup cranberries (fresh or frozen)
Directions
Pre-heat the oven to 400 degrees.
In a large bowl sift the whole-wheat pastry flour, baking powder, baking soda, and salt. Stir in the brown sugar and lemon zest.
In medium bowl, beat together the mashed banana, eggs, buttermilk, vanilla, and melted butter.
Add the banana mixture to the dry ingredients, folding them together with 10-12 quick strokes of a spatula. The batter will be lumpy and streaked with dry flour, but it is essential not to over-mix the batter for a tender muffin.
Carefully fold in ¾ of the cranberries with another 4-5 strokes. By this time, the batter should be mixed in but still a little uneven. If it is too smooth, you've over-mixed it.
Fill the muffin cups ½ – ⅔ full, depending on preferred size, scatter the remaining cranberries on top, and sprinkle with the remaining tablespoon of brown sugar.
Bake for 25 minutes or until a toothpick comes out clean.