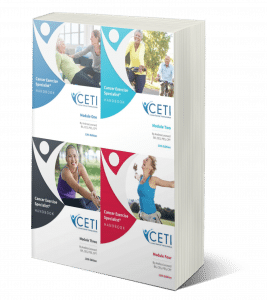 Cancer Exercise Specialist® Advanced Qualification
It takes a special person, both empathetic and compassionate, to work with cancer patients. One must have a deep understanding of exercise oncology and how to safely and effectively create an exercise program with proper modifications and progressions. The Cancer Exercise Specialist® (CES) program will give you the tools and confidence that you need to work safely and effectively with cancer patients and survivors at all stages of the recovery journey.
Who is it best suited for?
This CES program was developed for health and fitness professionals seeking to gain a complete understanding of the entire cancer process from diagnosis and treatment to reconstruction and survivorship. This evidence-based program was designed to help and encourage health and fitness professionals to attain a higher level of mastery and work with cancer patients during and after cancer surgery and treatment and into survivorship. 
How do I earn the CES qualification?
To become a Cancer Exercise Specialist® you will complete four modules. Each of the modules requires reading a handbook, watching a series of accompanying videos, completing quizzes throughout the coursework to assess your comprehension of the materials, and passing a final examination with a score of 80% or better. Upon completion, you will be recognized as a Cancer Exercise Specialist® by the Cancer Exercise Training Institute. In order to help you grow your business and make it easy for cancer patients and survivors to find you, upon completion and passing of the coursework, you will be added to the International Cancer Exercise Specialist® Directory for the time that your specialist designation remains current.
We update all materials every two years to maintain the most current and evidence-based content in the industry. This ensures that all Cancer Exercise Specialists® maintain a high level of proficiency within the ever-changing field of cancer treatments and procedures. To maintain your Specialist designation, you will be required to re-qualify every two years.
COURSE CURRICULUM
MODULE ONE
Get an in-depth look at the most common surgical procedures for 26 of the most common cancer types, as well as childhood cancer. Experience video-based sessions, quizzes, and a comprehensive manual on the subject matter. Gain a deeper insight into acute and chronic side-effects and contraindications of surgical procedures, cancer staging, genetics, and the human biome/immune system. Experience a video-introduction and welcome from Dr. Jay Harness and a video by Dr. La Gary Carter on "Exercise as Medicine."
What is Cancer?
Cancer Staging
5 Stages of Grief
What to Say to a Friend or Loved One
Being a Caregiver
Genetics
The Immune System and human biome
Important Things to Consider – Exercise Programming
Surgical Incisions
Acute and Chronic Side-effects
Contraindications
Childhood Cancer
MODULE TWO
Learn about risk factors for breast cancer, recommended surgeries, treatment, and reconstruction as well as side-effects/complications, and lymphedema prevention and management. Experience video-based sessions, quizzes, and a comprehensive manual on the subject matter. Experience video-based sessions by Denise Stewart, OT, on scar tissue awareness, Upper and lower extremity lymph drainage exercise programming by Andrea Leonard, Mindful Breathing by Ed Harrold, and Cancer and Comorbidities by Dr. Dan Mikeska.
Types of Breast Cancer
Risk Factors
Breast Surgery and Reconstruction
Cancer Treatment
Neurological Complications
Lymphedema
Mindful Breathing
MODULE THREE
Learn how to conduct a postural assessment, goniometric measurements, and several other testing methods and understand the balance of agonists and antagonists in order to sequentially determine individualized programming based on range of motion limitations, correcting postural deviations, and acute and chronic side-effects. Learn how to use manual stretching techniques to help with muscle imbalances and range of motion limitations and strengthen the core while working on proprioception and balance with the BOSU® Balance Trainer. Experience video-based sessions on assessment protocol with Andrea Leonard, quizzes, and a comprehensive manual on the subject matter.
Posture, Pain and Muscle Imbalance
Conducting a Comprehensive Assessment
Correcting Muscle Imbalances and Exercise Programming
Cardiorespiratory Fitness and Exercise Intensity
Cardiomyopathy
Common Side-effects, Complications, and Recommendations
How to Use a Goniometer/Correcting Range of Motion Limitations and Exercise Programming
Core and Balance Exercises
Nervous System Side-effects
Manual Stretching Techniques
MODULE FOUR
Gain critical knowledge about how a properly prescribed and executed exercise program can help cancer patients and survivors to combat fatigue, decrease depression and pain, and how diet can play a critical role in treatment as well as long-term survivorship. Included in this section is "Conquering Cancer with Nutrition," by Dr. Glenn B. Gero. Experience an in-depth, video discussion between Andrea Leonard – President and Founder of the Cancer Exercise Training Institute and Dr. Tami De La Melena, as well as quizzes and a comprehensive manual on the subject matter.
Benefits of Exercise
Cancer Related Pain
Mental and Physical Fatigue
Survivorship
Psychology of Fitness
Cancer Treatment and Weight management
Alcohol and Cancer Risk
Conquering Cancer with Nutrition
Taking Control of Your Emotions
Working with Medical Community
Forms
Following your video-based sessions and quizzes, there will be a comprehensive final examination. Home-study participants will have 180 days to complete the coursework in its entirety.
Live or virtual workshop attendees will participate in a two-day comprehensive training that includes lecture, hands-on assessment training, exercise prescription, and case-studies. The comprehensive final examination must be completed online within 90 days of the workshop.
CETI's coursework is intended for ALL fitness professionals; yoga, Pilates, Barre, ZUMBA, and group exercise instructors as well as personal trainers and exercise physiologists. You will learn how to modify and adapt your protocol to meet the needs of cancer patients during and after treatment.